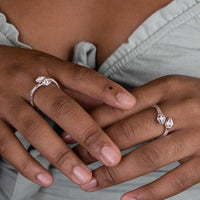 Extra Light Cocoa Pod Bangle Ring
SKU20000080
Bangles are sold individually
Description
Material - genuine sterling silver .925
Wire thickness - .090"
Weight - approximately 3g

About this ring:
The ring is marked along the sides with a unique diamante pattern. The heads are representative of cocoa pods which is historically an important cash crop of the West Indian Islands. The cocoa pods are casted separately and soldered onto the marked wire with .925 sterling silver solder. This ring is made the exact same way that we make bangles so it is essentially a mini West Indian Bangle. Each item is handmade and therefore every piece is unique.
Sizing
This ring is adjustable but if you wish to have a specific size please leave a note on the order or send us an email. 
Please note: that all items are handmade and that means that there will be variations in listed dimensions. They are to be used as guides for your purchase but are not exact values.
Customer Image
About us
Caribbijou is a family run company with a tradition in West Indian Bangles. Learn more about why we produce the most quality jewelry.
Learn More